The Horseshoe Lake Improvement Association brings lakeshore owners together to discuss matters that affect the quality of life on the lake. The Association is a non-profit organization. Membership is open to all Horseshoe lakeshore property owners.

Horseshoe Lake is located on the border of Polk and Barron Counties about three miles northwest of the town of Turtle Lake, Wisconsin. Approximately 60% of the lake is in Polk County. The lake has 377 surface water acres.

HLIA member meetings are held several times each summer.

Link to August 30, 2014 Meeting Minutes.

Link to Presentation/report by Dave Blumer, our management expert from LEAPS, at the September 30 meeting.

Link to Citizen Lake Monitoring information. Refresher seminars will be held Saturday March 14th and Saturday May 9th. Contact the DNR for more information and to sign up. If you want to attend the May seminar with Jack Sullivan, email HLIA (link on this page).

Turtle Lake High School "Earth Day" … April 22nd (rain date April 23rd)
1:00 - 3:00 pm in the Beaver Town Park (the students will rake the Beaver town park). Will need trailers/trucks that day to move leaves and brush. Anyone that can help with hauling on the 22nd (or 23rd) please contact Steve Eichman (use email link on this page) to let him know you are available.

Horseshoe Lake Ice Out History:
1982
4/23
1983
4/22
1984
4/14
1985
4/12
1986
4/8
1987
3/29
1988
4/7
1989
4/18
1990
4/8
1991
???
1992
???
1993
4/19
1994
4/13
1995
4/21
1996
4/26
1997
4/20
1998
3/31
1999
4/5
2000
3/24
2001
4/16
2002
4/16
2003
4/14
2004
4/13
2005
4/12
2006
4/09
2007
3/29
2008
4/26
2009
4/10
2010
3/30
2011
4/15
2012
3/19
2013
5/8
2014
4/28
2015
????

Milfoil News








Links to Lake District information:
Wisconsin Association of Lakes, Lake Association and Lake District Information
UWSP College of Natural Resources, "Forming a Lake District"

From "Lake Tides" Spring 2013: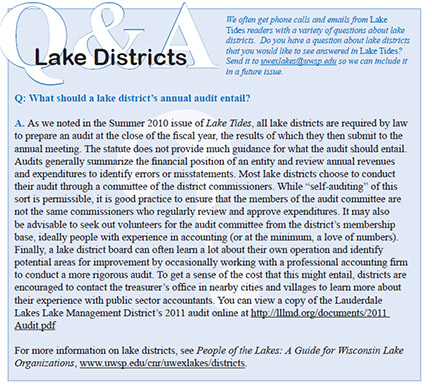 SNUBA News

Divers and Wannabes,

If you have not already been certified, now is the time to start. The lakeshore association is still willing to reimburse the cost of the certification if you contribute 10 hours of dive time this year.
All you of 18 years or older ... let us know when you are ready and we will contact you when it's time to get in the water. Craig and I dive from April to July, most weekends. If you want to join us in the FUN, or you know someone else who would like to join, us let us know. We have many wetsuits to fit most, but you would probally want your own mask ... fins ... aqua socks? We have everything else! It is really another world down under and quite fun to explore the under side of the lake! Let us know; we would love to play underwater with you all ... Craig and Laura Nackerud

SNUBA is a way for HLIA members to be involved, hands-on, in the ongoing effort to control milfoil.
Email HLIA if you are interested. More SNUBA information here.

Use caution at the boat landing!

The lake level is up, but rocks may still be a hazard for boat launching. No power loading!

DNR warning regarding the clearing of lakeshore.

Some lakeshore owners received warnings from the DNR regarding the clearing of beach and lakeshore. Only a 30 foot strip may be cleared, and only by hand -- no chemicals or machines. Violators may be fined.



Membership/Renewal

$40.00 of your $50.00 membership fee goes to the HLIA Milfoil funds account.

We have a Post Office box to receive dues payments, donations to combat milfoil, and other correspondence:

Horseshoe Lake Improvement Association
PO Box 304
Turtle Lake, WI 54889

In you are a Horseshoe Lake property owner and would like to join HILA, please email HLIA or complete, print and mail
this HLIA member sign up form.

If you are a current Horseshoe Lake Improvement Association member and would like to update your member information, please email HLIA or complete, print and mail this HLIA member update form.

See the meeting minutes page for past member meeting minutes.



Copyright © 2006 Horseshoe Lake Improvement Association