The Horseshoe Lake Improvement Association brings lakeshore owners together to discuss matters that affect the quality of life on the lake. The Association is a non-profit organization. Membership is open to all Horseshoe lakeshore property owners.

Horseshoe Lake is located on the border of Polk and Barron Counties about three miles northwest of the town of Turtle Lake, Wisconsin. Approximately 60% of the lake is in Polk County. The lake has 377 surface water acres.

HLIA member meetings are held several times each summer.

Link to August 31, 2013 Meeting Minutes.



Milfoil News



See August 31, 2013 meeting notes for the latest information.

3.5 acres were treated on June 20, 2013. Link to 2013 treatment area map.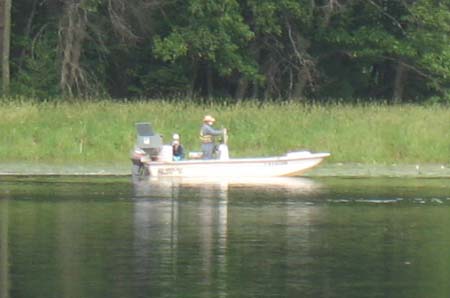 The Wisconsin DNR awarded the HLIA a three year (2011, 2012, 2013) milfoil control grant of $120,448.

This is a "Reimbursement Grant." 68.74% of the $120,448 grant ($82,798) provided by the DNR for approved milfoil control activities will not require reimbursement to the DNR by the HLIA. The remaining 31.26% of the grant ($37,650) must be "reimbursed" by the HLIA to the DNR through the value of donated items and volunteer time dedicated to milfoil control activity.

All expenses for specific DNR-approved milfoil control activity are to be paid initially by the HLIA. Upon satisfactory completion of the approved activity, the DNR will issue funds to the HLIA. This is the same type of remibursement arrangement the DNR has offered the HLIA with previous milfoil control grants. Thus far, HLIA has successfully met those prior donation/volunteer requirements with continued support from our members and fund-raising efforts. Details were discussed at the Saturday, May 25, 2013 HLIA membership meeting.

We need volunteers to inspect arriving and departing boats and trailers at the Horseshoe Lake boat landing. Volunteers also provide invasive species information to landing users. If you are willing to volunteer, please email Jack Sullivan. Go here for more information.

Link to a summary of the HLIA Aquatic Plant Management Plan, (pdf file)
completed August, 2010.

Link to the full HLIA Aquatic Plant Management Plan, (very large pdf file)
completed August, 2010.

Link to milfoil volunteer form to record time and expenses.
This is Hybrid Milfoil: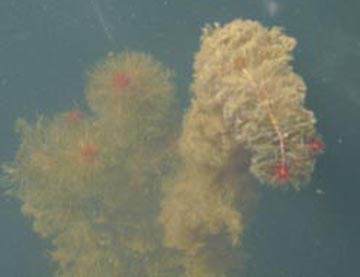 Links to Lake District information:
Wisconsin Association of Lakes, Lake Association and Lake District Information
UWSP College of Natural Resources, "Forming a Lake District"

From "Lake Tides" Spring 2013: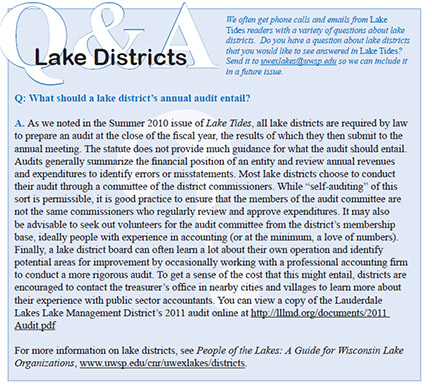 A request from Dave Blumer, Lake Scientist, SEH:

April, 2013

Hi Folks,

Now, and the next couple of weeks is a good time to start driving around and snapping photos of runoff around your lakes. Some of you have projects where photos of runoff events are directly pertinent to projects currently being conducted, other might be collecting these photos just to have something to reference now and in the future. In either case, I would like to have these photos for my collections related to each lake. If you get a chance to drive around in the next couple of weeks, make sure your camera is in the car. If you stop to take a picture, make sure you do it safely and do not trespass. When you take a picture, please record the date and time, and where the photo was taken (roadway bridge or culvert crossing on a given road, possibly nearest address, or drop a GPS point if you have such capability), and which direction you were facing (N,S,E,W or upstream/downstream, etc). If you have a county plat book you can jot down the township and section.

Thanks,

Dave Blumer | Lake Scientist
SEH | 1701 West Knapp Street, Suite B | Rice Lake, WI 54868
715.861.4925 direct | 715.651.7174 cell | 715.234.4069 fax
dblumer@sehinc.com
www.sehinc.com
SEH-Building a Better World for All of Us™


SNUBA News

Divers and Wannabes,

If you have not already been certified, now is the time to start. The lakeshore association is still willing to reimburse the cost of the certification if you contribute 10 hours of dive time this year.
All you of 18 years or older ... let us know when you are ready and we will contact you when it's time to get in the water. Craig and I dive from April to July, most weekends. If you want to join us in the FUN, or you know someone else who would like to join, us let us know. We have many wetsuits to fit most, but you would probally want your own mask ... fins ... aqua socks? We have everything else! It is really another world down under and quite fun to explore the under side of the lake! Let us know; we would love to play underwater with you all ... Craig and Laura Nackerud

SNUBA is a way for HLIA members to be involved, hands-on, in the ongoing effort to control milfoil.
Email HLIA if you are interested. More SNUBA information here.

The "Dredge Report"


The navigation channel from the main lake to Buckwall Bay was dredged out November 16 and 17, 2010. Details here.

Use caution at the boat landing!

The lake level is up, but rocks may still be a hazard for boat launching.
No power loading!

DNR warning regarding the clearing of lakeshore.

Some lakeshore owners received warnings from the DNR regarding the clearing of beach and lakeshore. Only a 30 foot strip may be cleared, and only by hand -- no chemicals or machines. Violators may be fined.



Membership/Renewal

$40.00 of your $50.00 membership fee goes to the HLIA Milfoil funds account.

We have a Post Office box to receive dues payments, donations to combat milfoil, and other correspondence:

Horseshoe Lake Improvement Association
PO Box 304
Turtle Lake, WI 54889

In you are a Horseshoe Lake property owner and would like to join HILA, please email HLIA or complete, print and mail
this HLIA member sign up form.

If you are a current Horseshoe Lake Improvement Association member and would like to update your member information, please email HLIA or complete, print and mail this HLIA member update form.

See the meeting minutes page for past member meeting minutes.



Copyright © 2006 Horseshoe Lake Improvement Association