The Horseshoe Lake Improvement Association brings lakeshore owners together to discuss matters that affect the quality of life on the lake. The Association is a non-profit organization. Membership is open to all Horseshoe lakeshore property owners.

Horseshoe Lake is located on the border of Polk and Barron Counties about three miles northwest of the town of Turtle Lake, Wisconsin. Approximately 60% of the lake is in Polk County. The lake has 377 surface water acres.

HLIA member meetings are held several times each summer.

Link to July 18, 2015 Meeting Minutes.



The Annual Labor Day Weekend Membership Meeting
and Picnic is Saturday, September 5th!!

11:00 a.m. Business Meeting
12:00 Noon Lunch for paid members & family only.

Link to the Picnic Sign Up Form



Lake District Update

We have all of the information required to move forward on the petition to form a Lake District. Volunteers have been obtaining signatures. (Examples of petition documents carried by volunteers can be viewed here.) Petition signatures from at least 51% of all lake property owners whose names appear as owners on the 2014 tax bills must be obtained before the petition can be submitted.

A big thanks to the 100+ people who took time out of their July 4th weekend to visit with us and sign the petition.

Thanks to all who attended our mid-summer meeting at the Beaver Town Hall on Saturday July 18th!

Didn't attend the July 18th meeting? Haven't signed the Lake District petition? Some options:
Email HLIA to request a visit by a volunteer. (Email link button is on the left side of this page.)
Contact Marie Hauser at 612-247-7725 marieh@visi.com, Pam Nelson at 612-616-6225 pjninsurance@aol.com or one of our other volunteers:
Craig Nackerud, Mike Foster, Craig Firl, Bruce Johnson, Jeanne Perala, Jim Lewis, Walt Goethel, Dave Ryan, Bill Koser, Steve Eichman or Joe Waldo.
Use this form link to review the Lake District petition information and to find your name(s) on either the Polk or Barron land owner list. If you wish to sign the petition you can print the Polk or Barron land owner page your name is on, sign your name on the appropriate line (lines, if more than one owner for your property is listed and those others wish to sign as well), scan the signed page and email the scanned page to HLIA using the email link on the left side of this home page. Some effort required here, obviously, but HLIA will receive your petition signature - to be submitted with all other owners who have signed the Lake District petition.
The Lake District is necessary to keep up the lake stewardship after our current DNR grants expire and is an opportunity for both full-time lake residents and non-resident lake property owners to have a say in the future of our lake with an equal "Vote"!

Thanks your help and support!
Horseshoe Lake Protection & Rehabilitation District Committee



Milfoil News



Approximately 6 acres of Horseshoe Lake was recently treated. Link to Pretreatment and Posttreatment survey maps. (The survey map has two pages, pre and post. Scroll to view each. Prior to treatment, property owners adjacent to the treatment areas received a notification letter in the mail. The notification letter can be read here.

The Wisconsin DNR requires that the 2015-2019 Aquatic Plant Management Plan for Horseshoe Lake be made available for review and comment by Horseshoe Lake property owners and other interested parties. Direct your comments to either the author of the report Dave Blumer, Lake Educator,Lake Education and Planning Services, LLC or to Pam Nelson, Horseshoe Lake AIS Coordinator. The link to the report is here. Dave's email address is dblumerleaps@gmail.com. Pam's email address is pnelson@millerhartwig.com

We need volunteers to inspect arriving and departing boats and trailers at the Horseshoe Lake boat landing.
Volunteers also provide invasive species information to landing users. If you are willing to volunteer, please email Jack Sullivan. Go here for more information.

A boat and trailer inspector refresher seminar will be held Saturday May 9th. Contact the DNR for more information and to sign up. If you want to attend the May seminar with Jack Sullivan, email HLIA (link on this page).
Link to Citizen Lake Monitoring information.
Link to HLIA milfoil volunteer form to record time and expenses.

This is Hybrid Milfoil: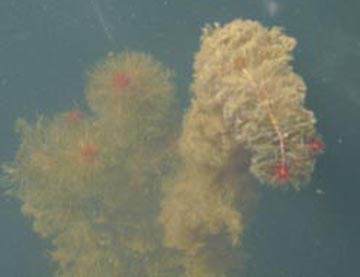 If you see it and can safely reach it, remove it. Try not to fragment it. Get the roots if possible. Dispose of it well away from the lake.





Links to Lake District information:
Wisconsin Association of Lakes, Lake Association and Lake District Information
UWSP College of Natural Resources, "Forming a Lake District"

From "Lake Tides" Spring 2013: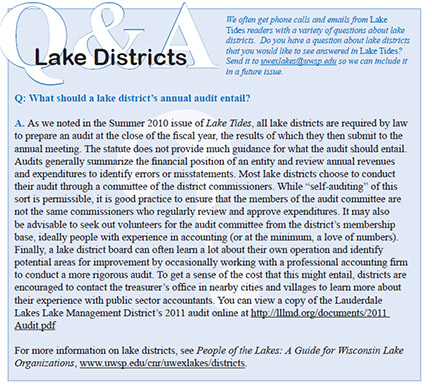 SNUBA News

Divers and Wannabes,

If you have not already been certified, now is the time to start. The lakeshore association is still willing to reimburse the cost of the certification if you contribute 10 hours of dive time this year.
All you of 18 years or older ... let us know when you are ready and we will contact you when it's time to get in the water. Craig and I dive from April to July, most weekends. If you want to join us in the FUN, or you know someone else who would like to join, us let us know. We have many wetsuits to fit most, but you would probally want your own mask ... fins ... aqua socks? We have everything else! It is really another world down under and quite fun to explore the under side of the lake! Let us know; we would love to play underwater with you all ... Craig and Laura Nackerud

SNUBA is a way for HLIA members to be involved, hands-on, in the ongoing effort to control milfoil.
Email HLIA if you are interested. More SNUBA information here.

"Big Fish Report"


Here's proof that there's some great fishing in Horseshoe Lake: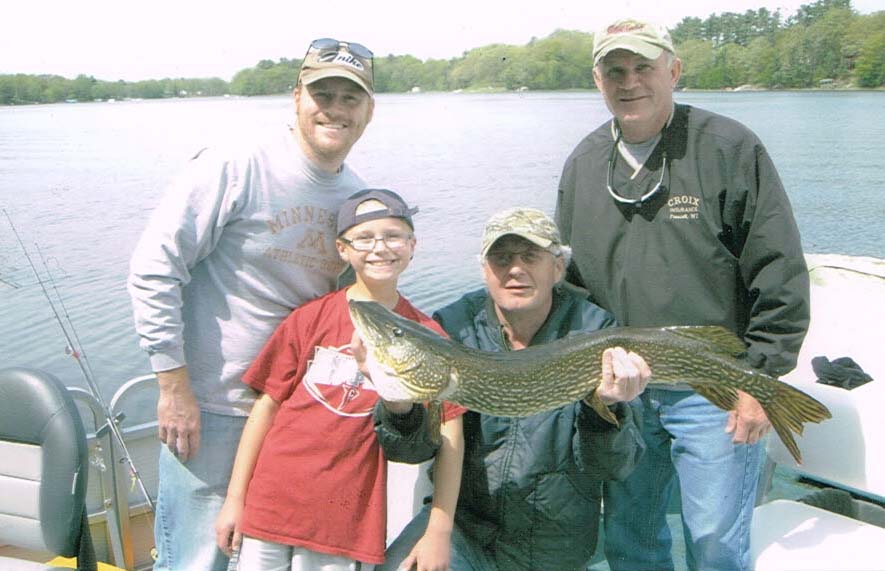 Use caution at the boat landing!

The lake level is up, but rocks may still be a hazard for boat launching. No power loading!

DNR warning regarding the clearing of lakeshore.

Some lakeshore owners received warnings from the DNR regarding the clearing of beach and lakeshore. Only a 30 foot strip may be cleared, and only by hand -- no chemicals or machines. Violators may be fined.



Membership/Renewal

$40.00 of your $50.00 membership fee goes to the HLIA Milfoil funds account.

We have a Post Office box to receive dues payments, donations to combat milfoil, and other correspondence:

Horseshoe Lake Improvement Association
PO Box 304
Turtle Lake, WI 54889

In you are a Horseshoe Lake property owner and would like to join HILA, please email HLIA or complete, print and mail
this HLIA member sign up form.

If you are a current Horseshoe Lake Improvement Association member and would like to update your member information, please email HLIA or complete, print and mail this HLIA member update form.

See the meeting minutes page for past member meeting minutes.



Copyright © 2006 Horseshoe Lake Improvement Association